"The first thing I'd do when I wake up is vape," student Joy, 19, admits.
That is despite the Queenslander being physically sick from the first time she ever took a puff of one of the disposable vapes aged 17.
But it didn't put her off.
She continued using the often brightly coloured vapes, which cost around $35 each, just like many of her friends.
READ MORE: WA's tough anti-vaping rules could see students banned from school formals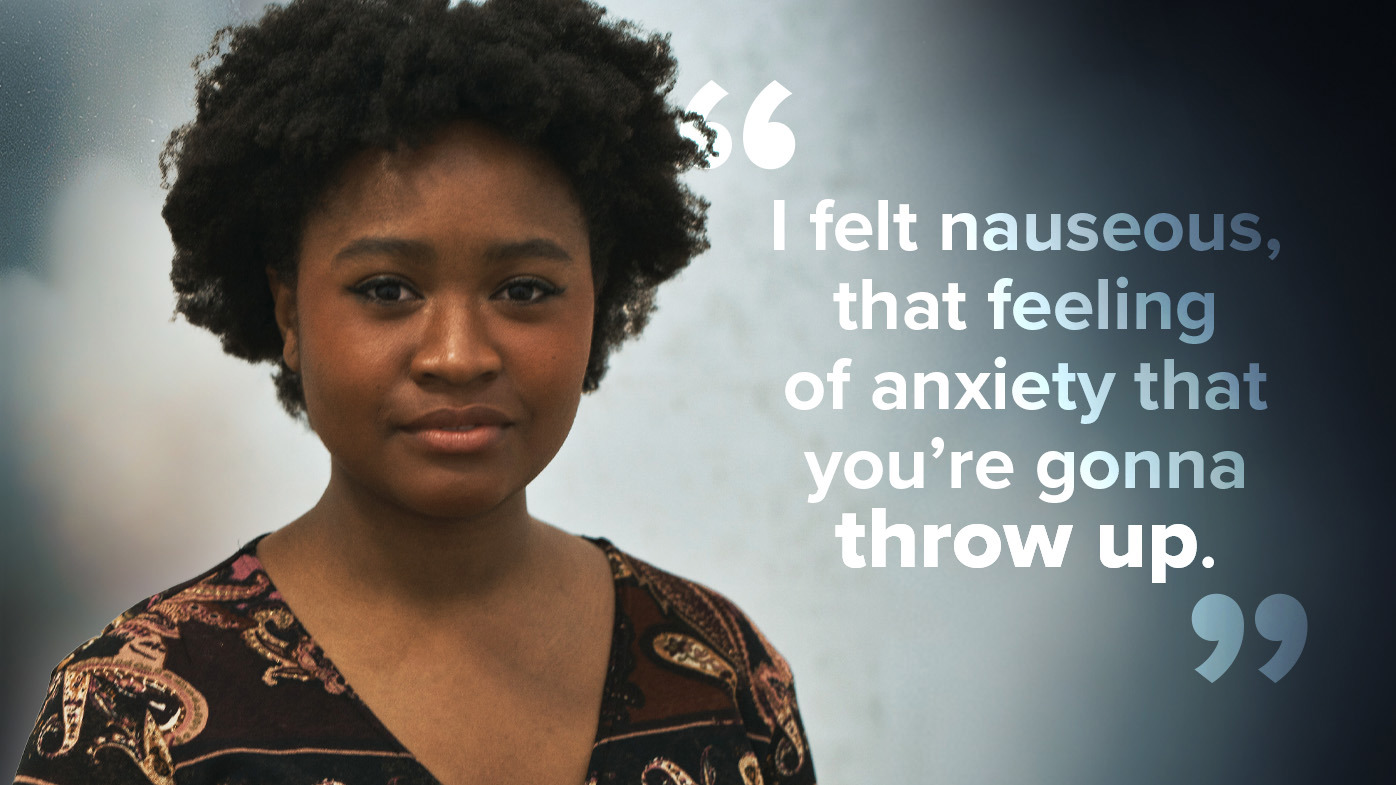 Joy quickly became addicted – and even became what is known as "nic sick".
That means she was suffering from acute nicotine toxicity which causes vomiting and nausea.
Because while non-prescription disposable flavoured vapes which are commonly sold online or at shops are not supposed to contain nicotine, studies have shown many do.
More than half a million youngsters vape
Now Joy is part of a hard-hitting campaign which sees young people themselves appeal to kids, teens and young adults not to start vaping plus offers help to stop.
Called UNCLOUD, it's being rolled out by the Minderoo Foundation, the charity launched by tycoon Andrew 'Twiggy' Forrest.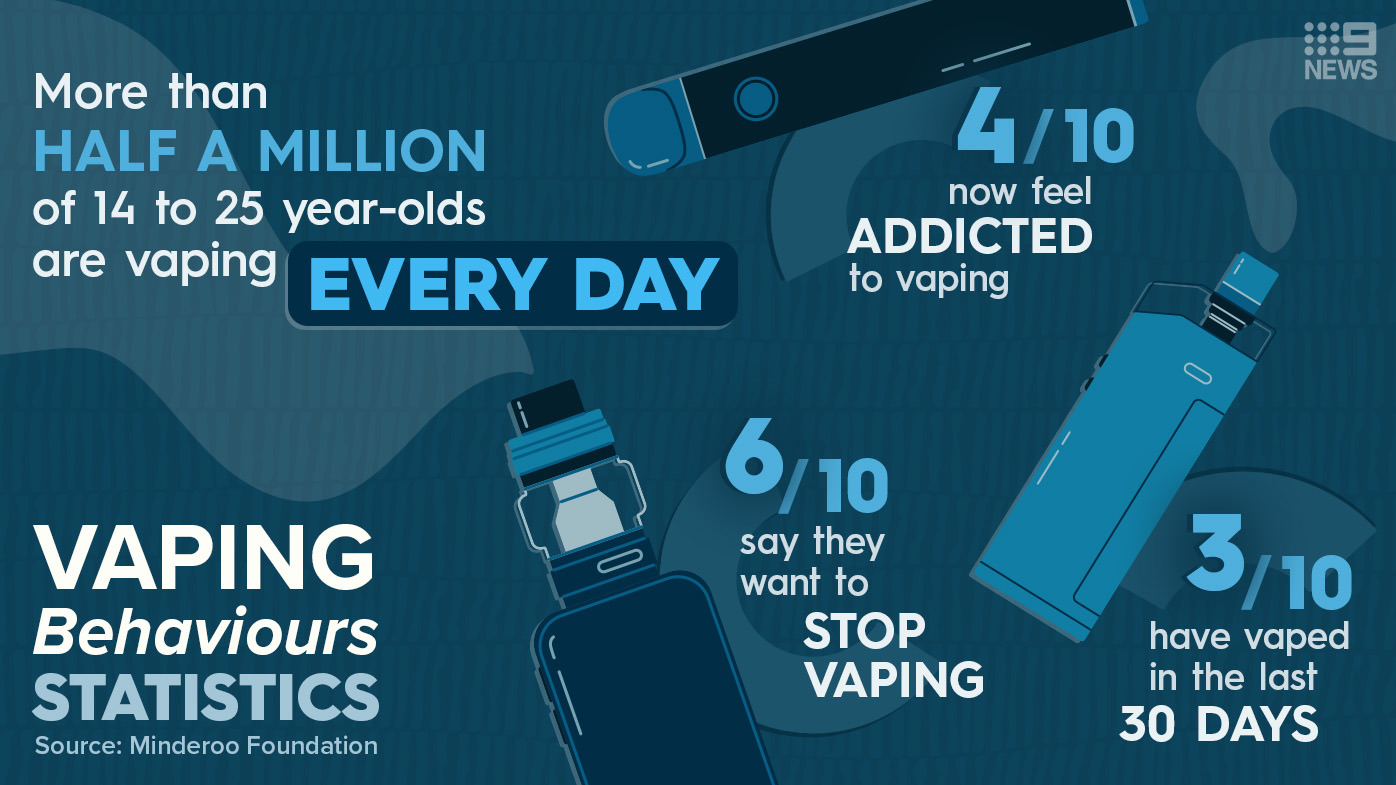 It includes a website and campaigns for sites young people use like Instagram, Snapchat and TikTok.
Posters will also be rolled out across Australia, some with stark images including young people in hospital from vaping.
The campaign is backed by research studies including Generation Vape and Minderoo Foundations' own Vaping Among Young Australians study.
The research found three in 10 Aussies aged 14-25 had vaped in the 30 days before – and more than half a million in that age group vape daily.
That is despite the age limit being 18.
While it's too soon to tell what the long term impact of vaping are, young vapers are three times as likely to take up smoking cigarettes.
READ MORE: Ray's prostate test was worrying. It took two years to find he had cancer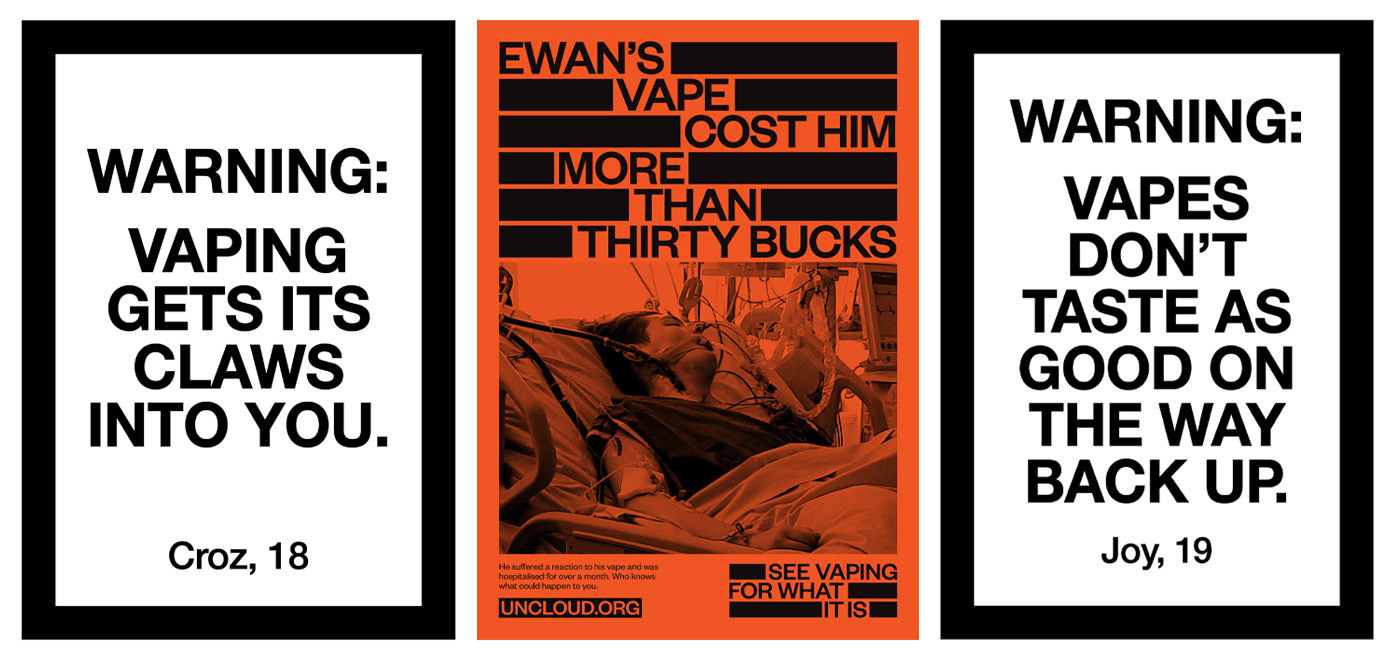 Earlier this year data showed teen smoking was on the rise for the first time in 20 years.
Smoking remains the leading cause of preventable death and illness in Australia.
Joy said has such resources been available to her she probably would not have started vaping.
"I would search 'what's in vapes, what's the risk'… everything just linked back to cigarettes," she said.
"Making an informed decision would have prevented me from buying my own vape."
Eventually Joy realised she needed to stop vaping for her health and has successfully given up.
READ MORE: NSW launches new $6.8 million crackdown on illegal vaping
'Heartbreaking' reality of young people's habit
Professor Claire Wakefield, psychologist and director of Minderoo Foundation's Cancer Mission, said while it's backing government moves including a revamp of the laws, encompassing a ban, they want to empower young people to say no to vaping themselves.
"They already know the basics in terms of the fact vapes contain nicotine, that they have chemicals," Prof Wakefield said.
"Knowledge alone is not enough to always create behaviour change.
"They want to hear the stories of other young people who face the same thing."
Wakefield said she was struck by some of the stories of youngsters involved in the research, including those still at school.
"Can you imagine sitting in class and going through nicotine withdrawal?" she said.
"That just broke my heart."
READ MORE: Vaping sends six young people to NSW emergency departments in eight days
'You don't feel the same as you did before'
Melbourne food and beverage worker Aderline, 24, is also urging others not to get into vaping.
She reckons she's spent $3000 on vapes over three years, becoming addicted.
"The past year I don't even think I've been enjoying it," she said.
She wakes up with what she describes as "a whole lot of phlegm," in her throat, and has digestion issues.
"You don't feel the same as you did before," she said.
So far she has managed to cut her habit to 30 puffs a day from as many as 150.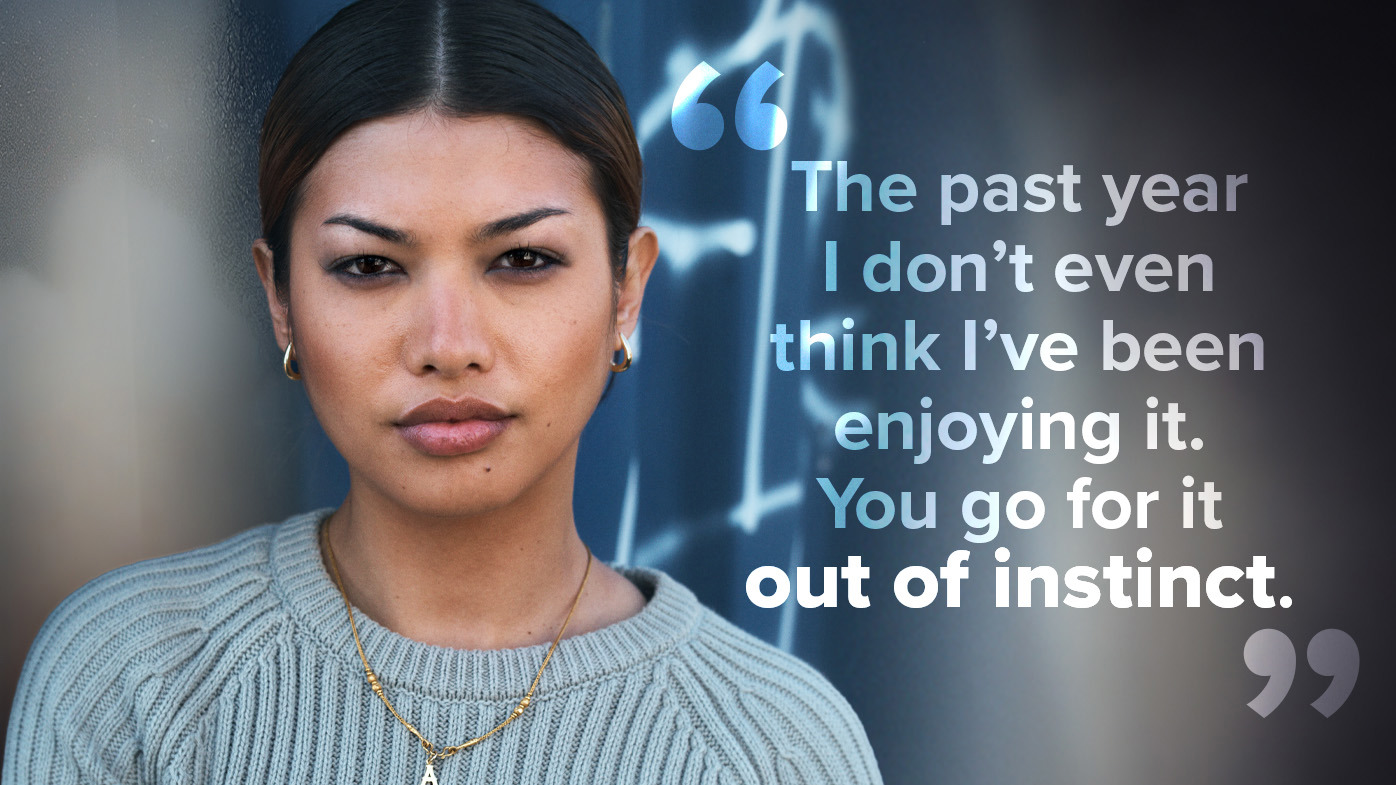 But she admits it's tough to try and stop.
"If I could go back and not start, 100 per cent I would take that," she said.
READ MORE: 'Too late for me': Cancer patient's plea over screening plan
Crackdown imminent
Federal Health Minister Mark Butler said he hopes a ban on vapes along with other measures announced in May to be in place by the end of the year.
The crackdown will see recreational vaping outlawed, the importation of non-pharmaceutical vapes banned, and tight restrictions on the flavours and packaging of the products.
It will be illegal for shops to sell vapes.
That's amid many recent seizes of illegal vapes across the nation.
New fines have yet to be set for those caught selling such vapes under the crackdown.
Nicotine vapes are allowed in Australia – but only on prescription.
Butler said governments across the country are "determined to stamp this out."
"Vaping was never intended to be a recreational product," Butler said.
"It was always sold as a therapeutic product for hardened smokers – not a recreational product that would get our kids hooked to nicotine."
For help to stop smoking or vaping, see your GP or visit Quitline.